What we do
COLLABORATION is the sharing of ideas and development of relationships. It means being able to effortlessly communicate, using any device and on any platform, regardless of location. Collaboration from Quatrix incorporates a range of communication tools for an integrated and unified solution to keep users connected and productive.
We work with businesses to understand and then determine which collaboration solutions meet the communication requirements of the entire organisation. Collaboration solutions can include anything from Unified Communications with Instant Messaging & Presence to immersive Telepresence solutions that deliver user engagement and business continuity.
Collaborative technologies can transform organisations, enable faster decision making, control costs and improve productivity. Solutions include:
Unified Communications
TelePresence
Webex
Unified Communications
Transform your business operations and communications with Unified Communications from Quatrix.
A Unified Communications System brings together all your telephones, computers and video end points onto one single network for seamless communication across your business.  It integrates well-known office-based solutions, such as email and voicemail with the less familiar tools of Instant Messaging and Presence, all designed to improve internal communications and enhance the customer service experience.
Talk to us about how Unified Communications could bring a unified approach to your business communications, across all devices, such as: laptops, PCs, tablets, desk & mobile phones.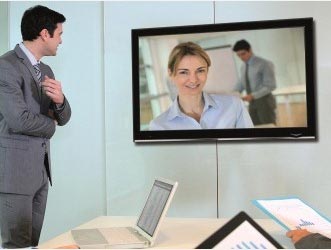 TelePresence & Video Conferencing
Cisco video conferencing and TelePresence solutions from Quatrix allow your staff to meet and communicate 'face-to-face' quickly, simply and cost-effectively. Video is one of the fastest growing bsuienss tools and can play an important role in an effective collaboration solution.
The simplicity and effectiveness of the solutions often negate the need for expensive and time-consuming travel to meetings and also speed the decision making process, bringing collaboration to many areas of business.
Video conferencing has come a long way in recent years and it is now possible to hold a meeting from a boardroom, desktop or mobile device – whenever and wherever is suitable for all attendees and without loss of clarity.  Cisco's Telepresence solutions enable people to come together to collaborate and share ideas as if they were in the same room.
Make video pervasive throughout your business and talk to Quatrix about the Personal Desktop TelePresence and Room-Based TelePresence options available to your business.
Managed Video Service
Whether you're new to using video conferencing, or have already adopted video, a managed service plan can make your investments go further, without all the technical headaches. We work with managed video service provider, UCi2i, to design, build and deploy a hosted solution that is suited to you and your collaboration needs, for a monthly fee rather than an often expensive capital outlay.
With UCi2i and Quatrix, there is no need to invest in expensive infrastructure or specialist skill sets, because we do that for you, and the services are offered over a secure network in the cloud, delivering risk-free video communications you can depend on.
Make video pervasive throughout your business and talk to Quatrix about the Personal Desktop TelePresence and Room-Based TelePresence options available to your business.
Webex - Online Conferencing
WebEx is a web conferencing facility that allows you to present dynamic online events to your customers and contacts, or share documents and information with colleagues and suppliers quickly and simply over the internet. Collaboration is made easy with WebEx. Everything from training to technical support, events to meetings, can be achieved using this collaborative solution.
Talk to us about the options available to your business. All you need to get started is:
A computer or mobile device with an internet connection
An audio connection through your computer (VoIP) or telephone
A webcam (optional)